How to Sign Up and Deposit Money at OctaFX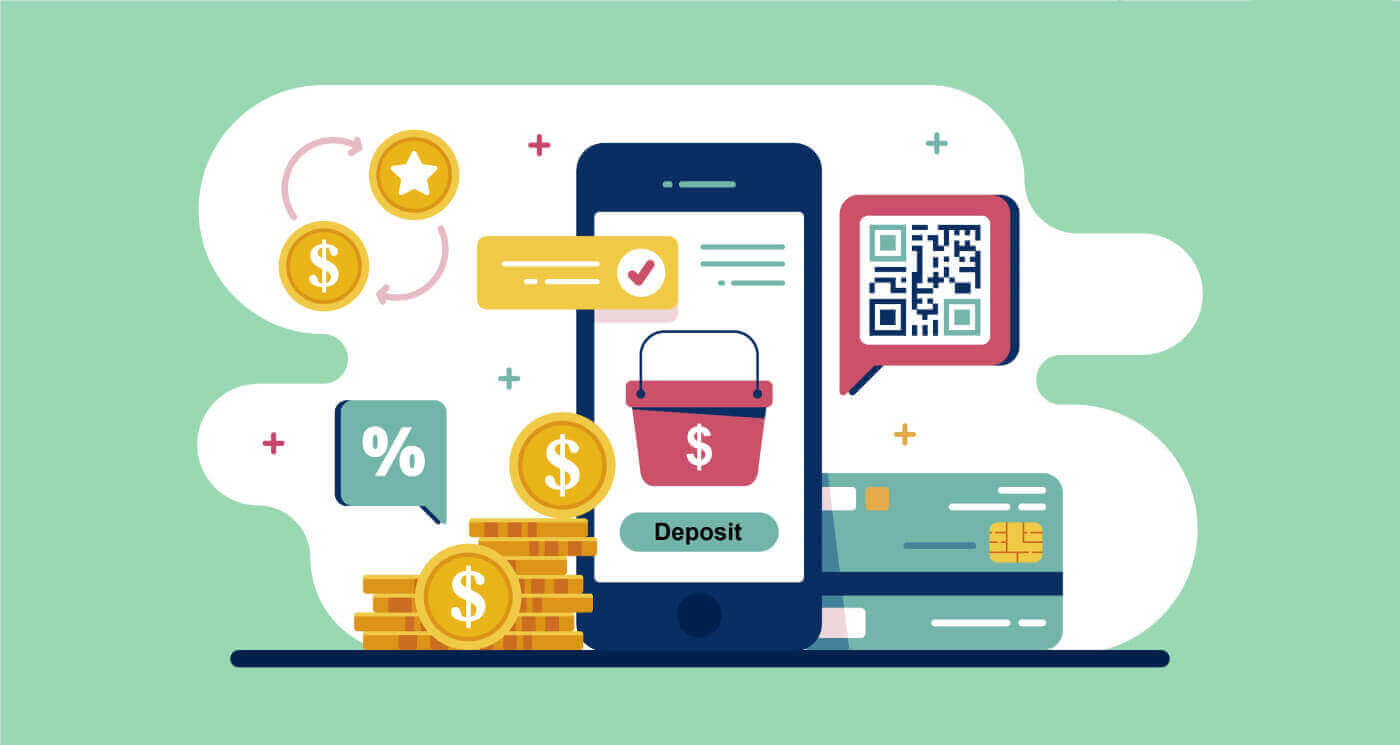 How to Sign up at OctaFX
How to Sign up a Trading Account
To open a trading account, please, follow the step-by-step instruction:
1. Press the Open Account button.
The Open Account button is located at the top right corner of the webpage. If youre having trouble locating it, you can access the registration form using the signup page link.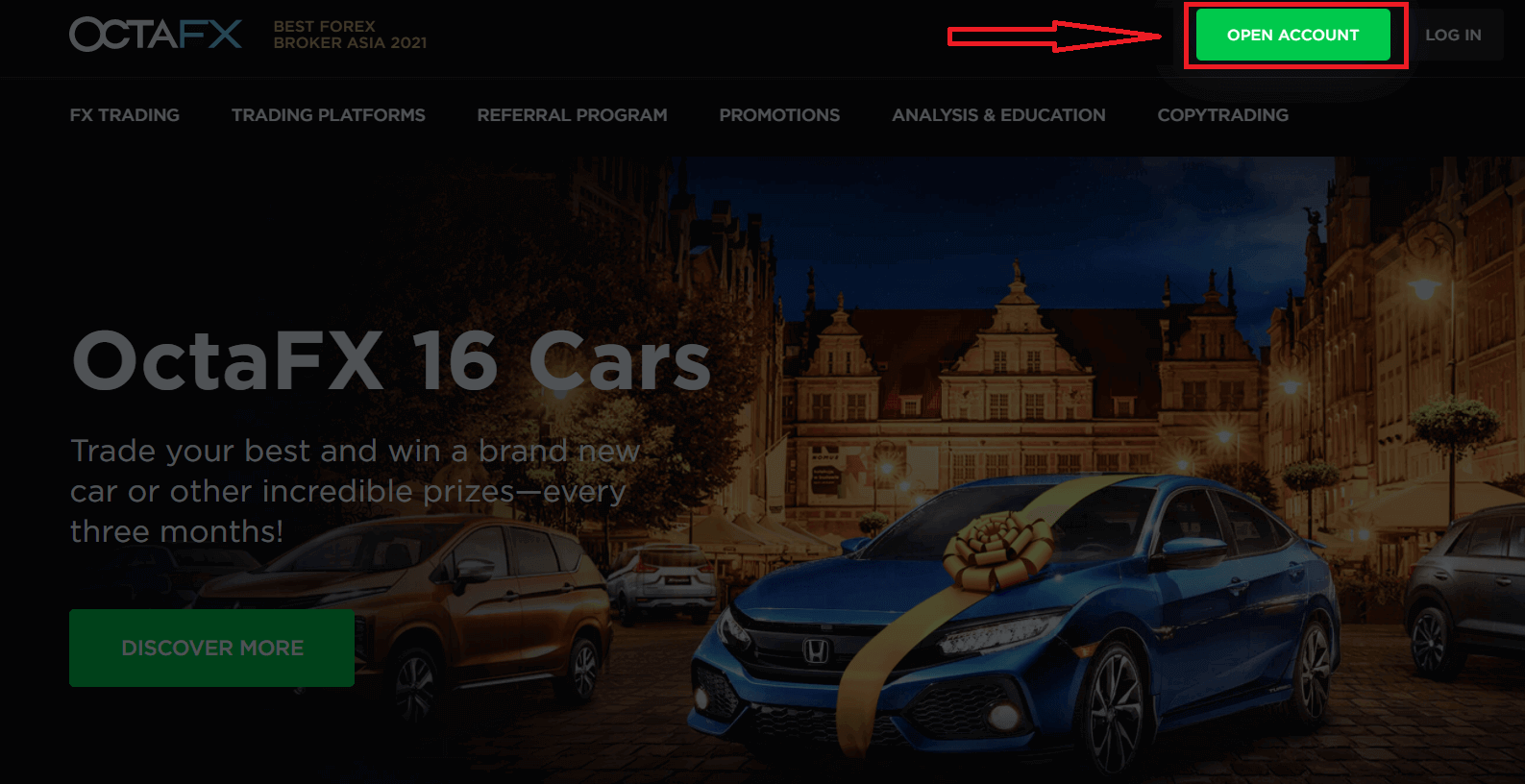 2. Fill in your details.
After pressing the Open Account button, youll come across a registration form asking you to fill in your details. After filling in your details, press the Open Account button below the form. If youve selected to sign up with Facebook or Google, fill in the missing information and press continue.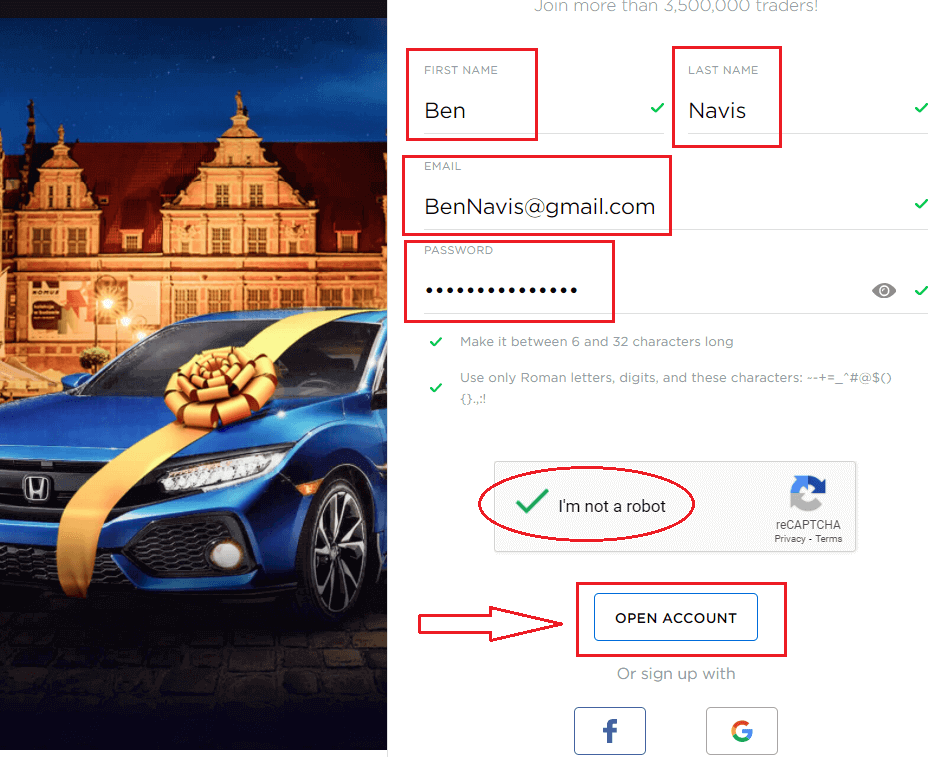 3. Verify your email address.
After providing your details and submitting the form, youll be sent a confirmation email. After locating and opening the email, press
Confirm
.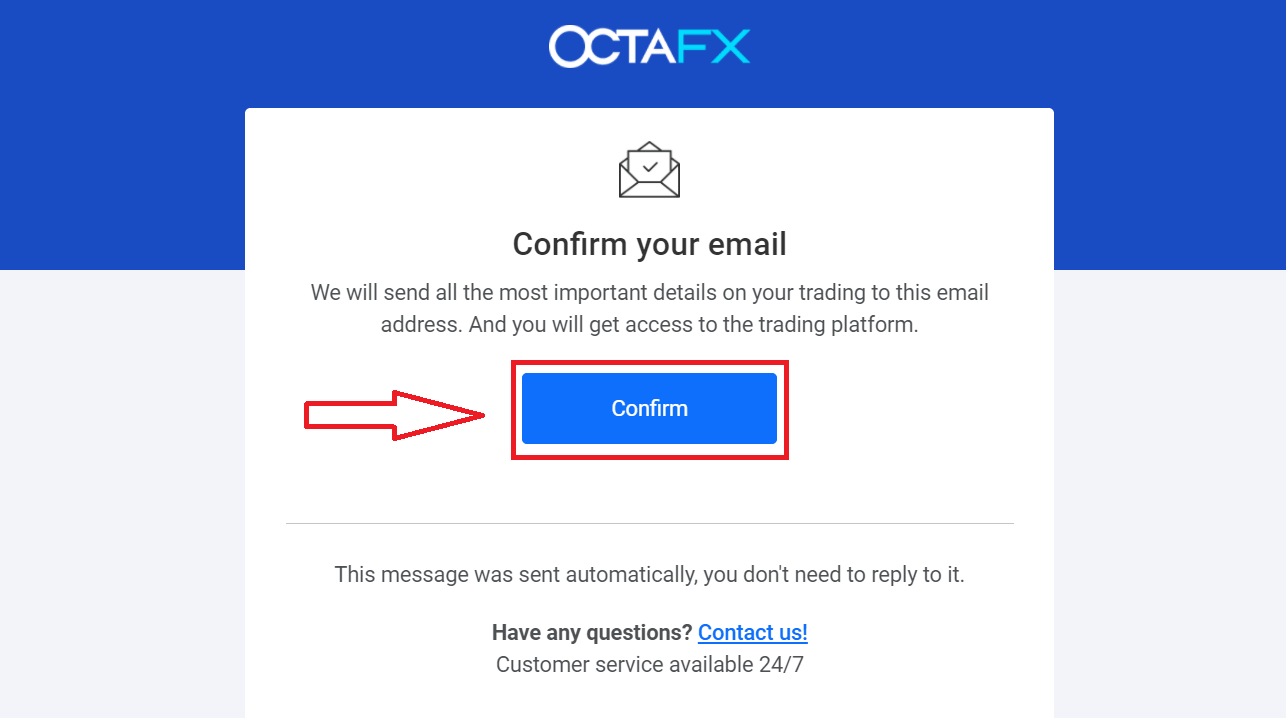 4. Fill in your personal details.
Following confirming your email, youll be redirected to our website to fill in your personal details. The information provided must be accurate, relevant, up-to-date, and subject to KYC standards and verification. Please notice that you need to be of a legal age to trade Forex.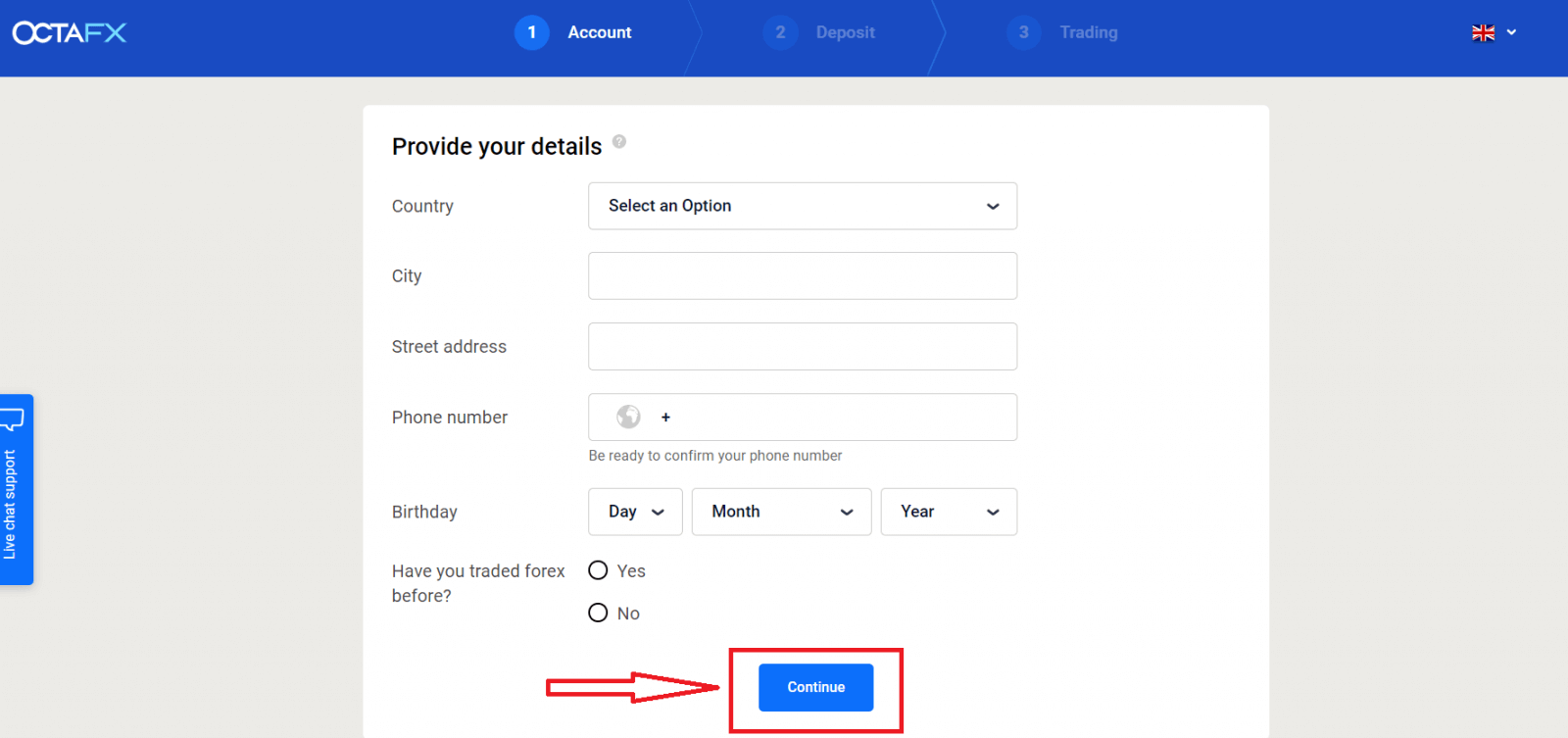 5. Select a trading platform.
Next, youll need to choose which trading platform you want to use. Be prompted to select between either a real or a demo account.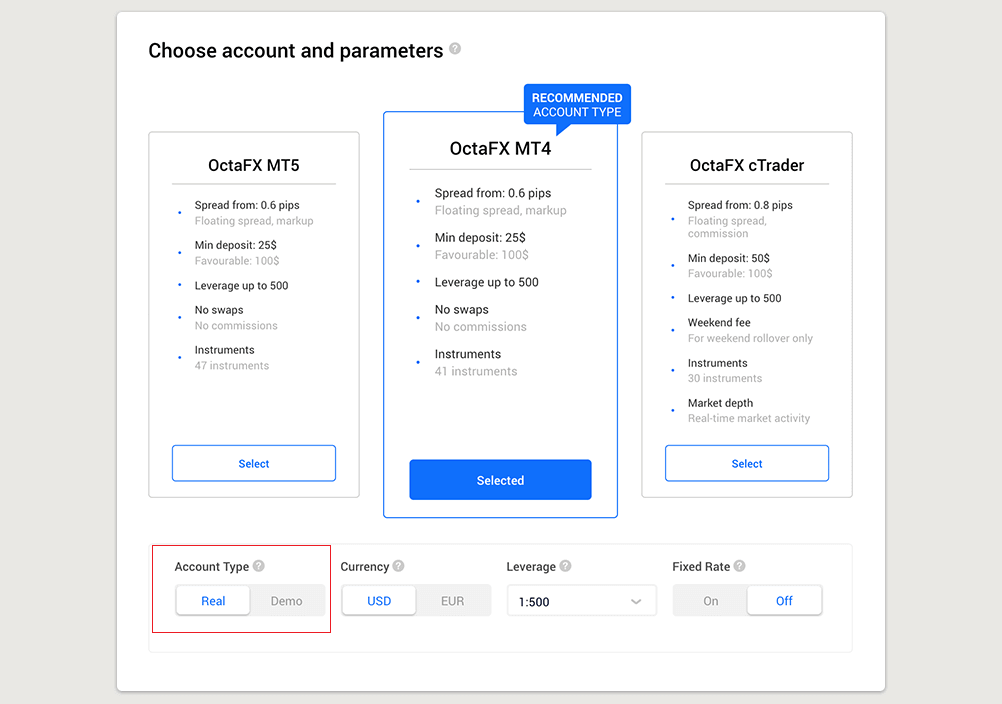 To understand which account is best for you, you should check our detailed comparison of Forex accounts and their types and compare trading platform features from OctaFX. Most clients typically choose the MT4 platform.
Once youve selected your desired platform, youll need to choose whether you want to open a real or a free demo account. A real account uses real money, while a demo account allows you to use virtual currency with no risks.
While you cannot withdraw funds from the demo account, you will be able to practice strategies and become acquainted with the platform without a hassle.
6. Complete account choice.
After choosing a platform, press Continue to finalize your account creation.
You will see a summary of your account, including:
Account number
Account type (demo or real)
Currency of your account (EUR or USD)
Leverage (you can always change it in your account later)
Current balance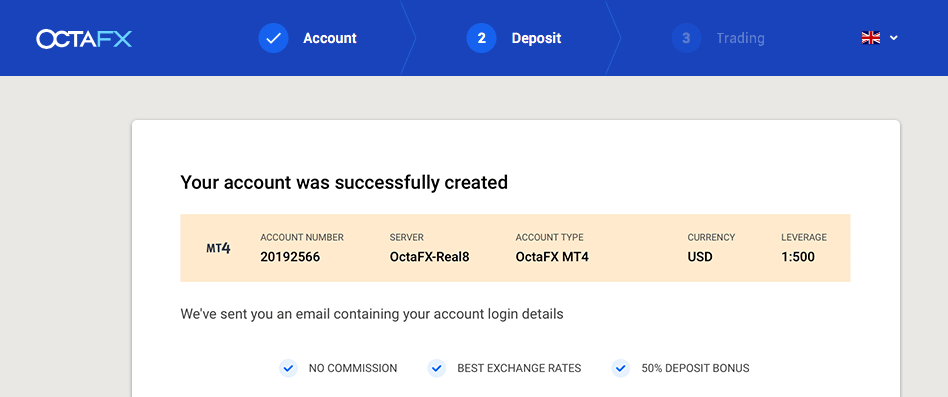 7. Make your first deposit and submit a verification document for withdrawal.
You can then make your first deposit, or you can first complete the verification process.
Please, notice that according to our AML and KYC policies, our clients must verify their accounts by providing the required documents. We request only one document from our Indonesian clients. You need to take a photo of your KTP or SIM and submit it. This way validates you are a sole holder of a trading account and ensures no unauthorized access.
Following the steps above allows you to create a trading account on OctaFX. To start trading, you need to initiate the deposit process.
Before opening an account, it's important to familiarise yourself with this information:
Please, read the customer agreement thoroughly before you open an account.
Forex margin trading involves substantial risks. Before entering the Forex market, you need to be aware of the risks involved.
AML and KYC policies are in place to protect accounts from unauthorized access. To secure transactions, we require documents verification.
How to Sign up with a Facebook account
Also, you have an option to open your account through web by Facebook and you can do that in just few simple steps:
1. Click on Facebook button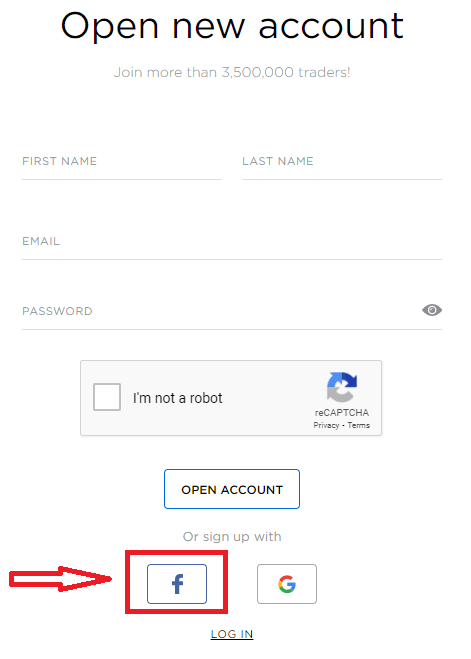 2. Facebook login window will be opened, where you will need to enter your email address that you used to register in Facebook
3. Enter the password from your Facebook account
4. Click on "Log In"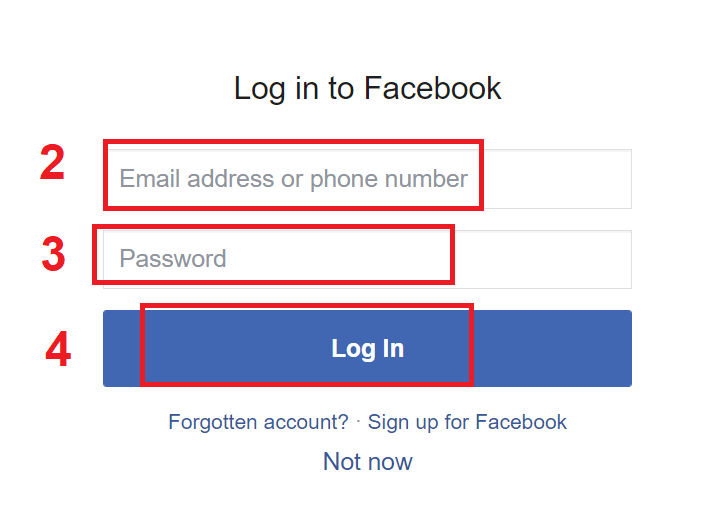 Once you've
clicked on the "Log in" button
, OctaFX is
requesting access to: Your name and profile picture and email address. Click Continue...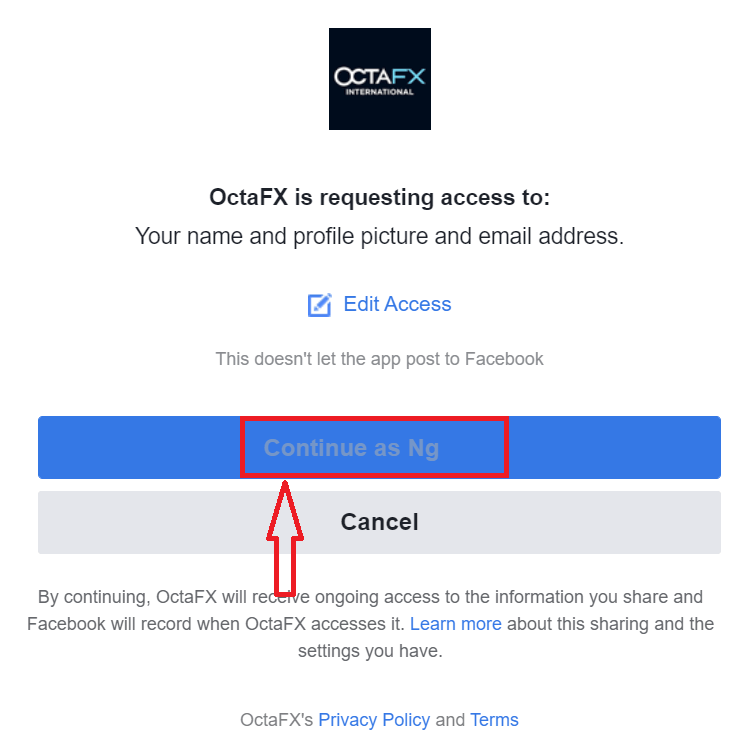 After That You will be automatically redirected to the OctaFX platform.



How to Sign up with a Google+ account
1. To sign up with a Google+ account, click on the corresponding button in the registration form.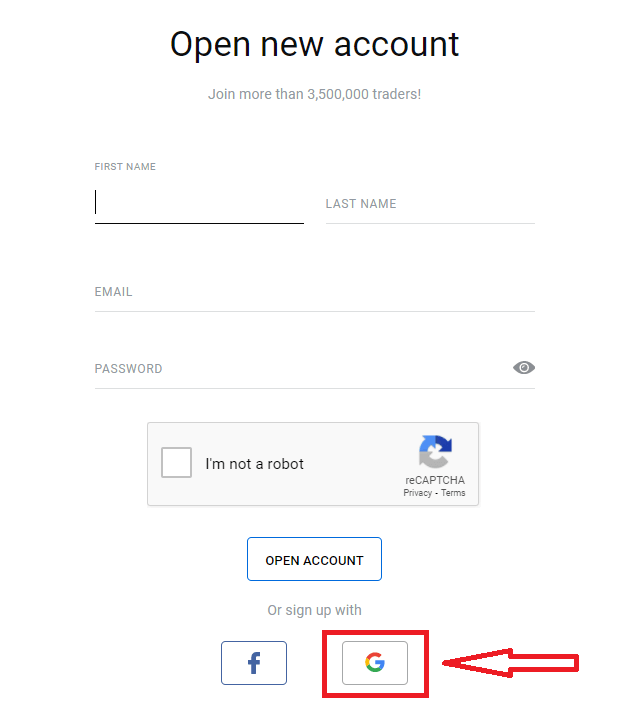 2. In the new window that opens, enter your phone number or email and click "Next".
3. Then enter the password for your Google account and click "Next".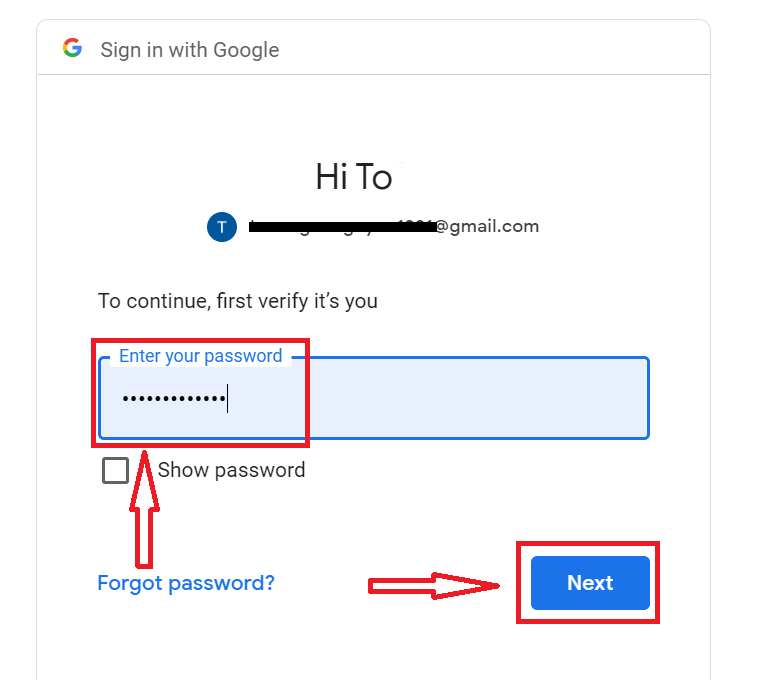 After that, follow the instructions sent from the service to your email address.
OctaFX Android App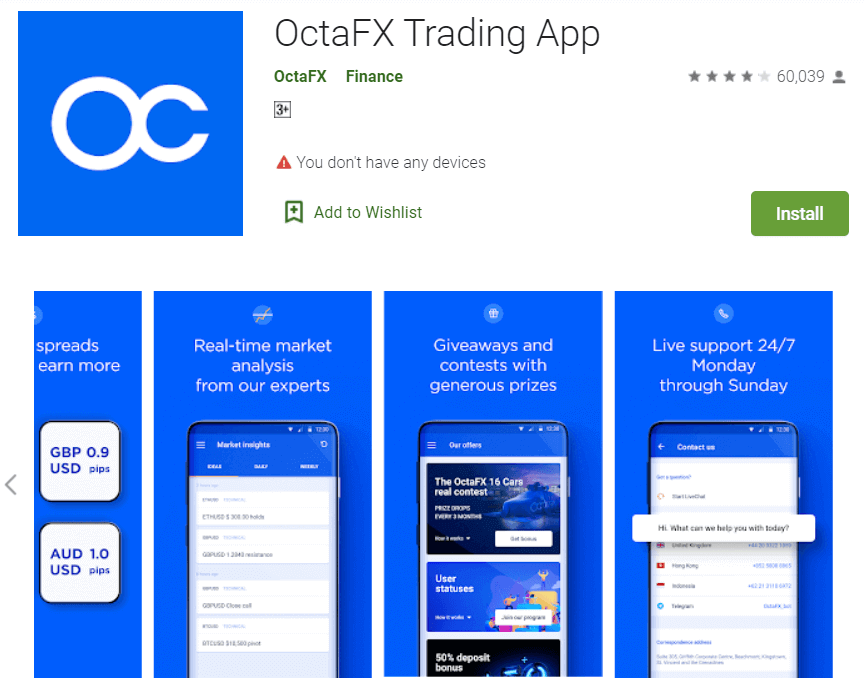 If you have an Android mobile device you will need to download the official OctaFX mobile app from Google Play or here. Simply search for "OctaFX – Mobile Trading" app and download it on your device.

The mobile version of the trading platform is exactly the same as web version of it. Consequently, there won't be any problems with trading and transferring funds. Moreover, OctaFX trading app for Android is considered to be the best app for online trading. Thus, it has a high rating in the store.



FAQ of Account Opening



I already have an account with OctaFX. How do I open a new trading account?
Sign in to your Personal Area with your registration email address and Personal Area password.
Click Create account button on the right of My accounts section or click Trading Accounts, and select Open real Account or Open demo account.



What type of account should I choose?
It depends on the preferred trading platform and the trading instruments youd like to trade. You can compare account types
here
. If you need to, you can open a new account later.



What leverage should I select?
You can select 1:1, 1:5, 1:15, 1:25, 1:30, 1:50, 1:100, 1:200 or 1:500 leverage on MT4, cTrader or MT5. Leverage is virtual credit given to the client by the company, and it modifies your margin requirements, i.e. the higher the ratio, the lower the margin you need to open an order. To choose the right leverage for your account you can use our Forex calculator. Leverage can be changed later in your Personal Area.
How to Deposit at OctaFX
How to make a Deposit



Initiating a Deposit
Step 1. Log into your Personal Area and press Deposit.
The
Deposit
button is at the top of the main menu and the right-hand menu on both mobile and desktop versions of our site.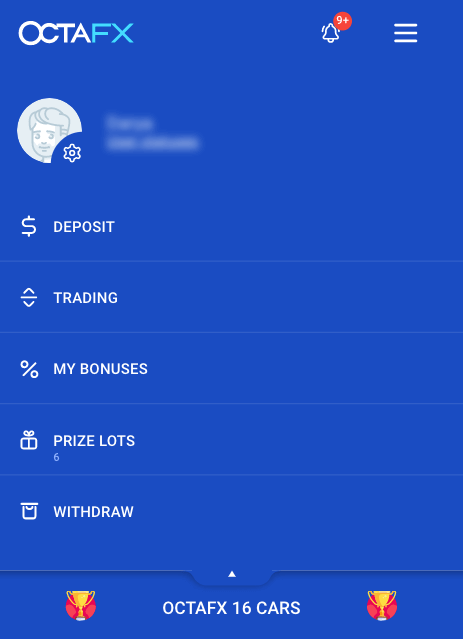 Step 2. Select the account you want to make a deposit to.

Then on choose your preferred transfer method



Depositing from your bank account
Step 1. Select the Local Bank option or choose your bank logo if you see it.
Note that the bank list you can see depends on the region you specified during the registration.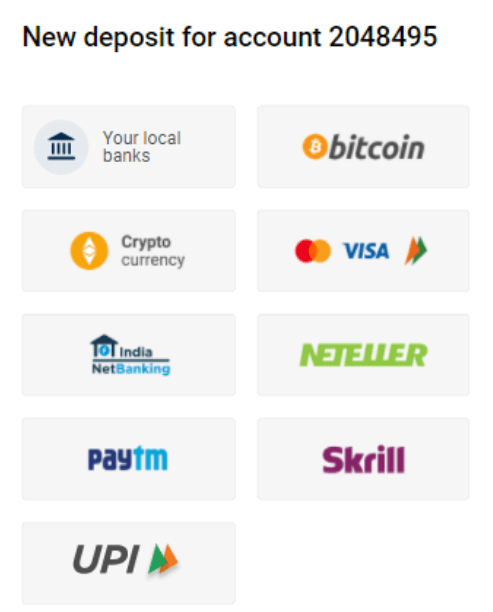 Step 2. Select a template or specify the deposit amount.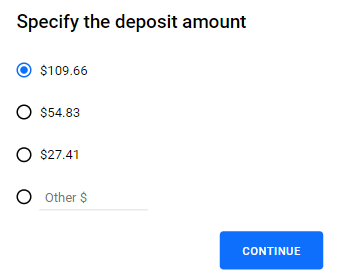 Step 3. If you didn't do that on Step 1, select your bank.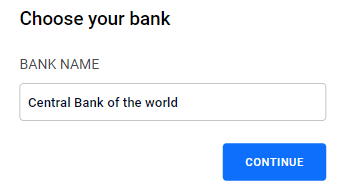 Step 4. Next on, follow the instructions.
You have three ways to make a wire transfer deposit:
Via online banking:
Open your online banking app or website.
Make a transfer to the credentials you will see on the deposit page
.Make a screenshot of your processed transaction.
Via ATM:
Find your nearest ATM.
Make a deposit to the credentials you will see on the deposit page.
Keep the receipt.
At a bank branch:
Go to your nearest bank branch.
Carry out the transfer to the credentials you will see on the deposit page.
Keep the receipt.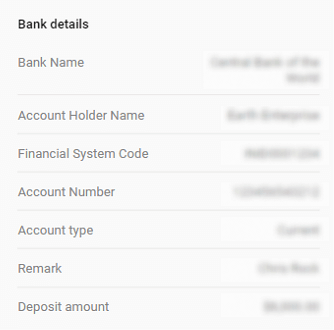 Please note:
You'll need to keep the credentials at hand when you're making the transfer.
•The amount you specified on our site should match the amount of the transfer.
Step 5. When done, notify us after the transfer.
When you're all set, press
Notify Us After Transfer.
You will be prompted to a form where you need to fill the actual transfer amount, your bank account number, and the date of transfer.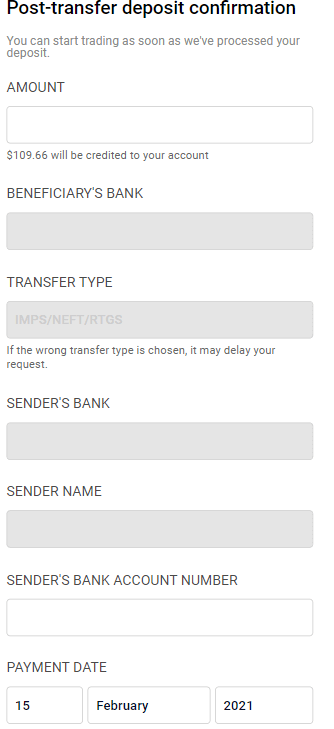 To speed it up, you can upload the payment proof—a screenshot of your processed transaction or a photo of the transfer receipt.
Finally, press Confirm Request.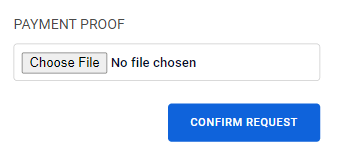 The payment will be settled in your account in 1 – 3 hours.
Depositing with a Credit or Debit Card and E-Wallets
These deposits are always instant.
Step 1. Select Visa, mastercard, or your e-wallet—this list may vary depending on your country.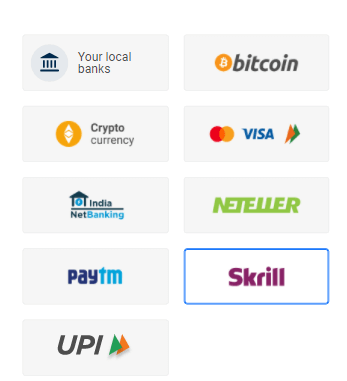 Step 2. Select a template or specify the deposit amount.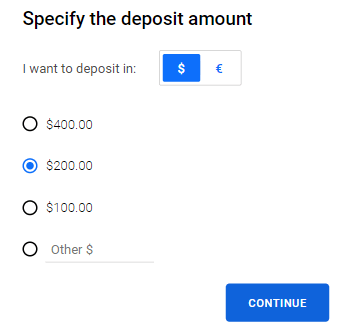 Step 3. If necessary, fill in other payment information or check the transfer details.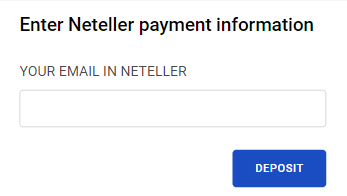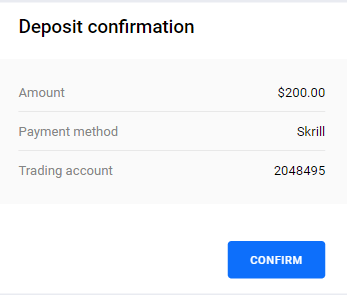 Step 4. You will be prompted to the payment service page. Follow its instructions to complete the payment.



Depositing Via Bitcoin
Step 1. Select Bitcoin.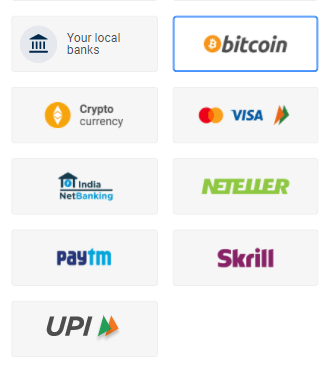 Step 2. Make sure you won't hit the maximum transfer limit and press Proceed with BTC.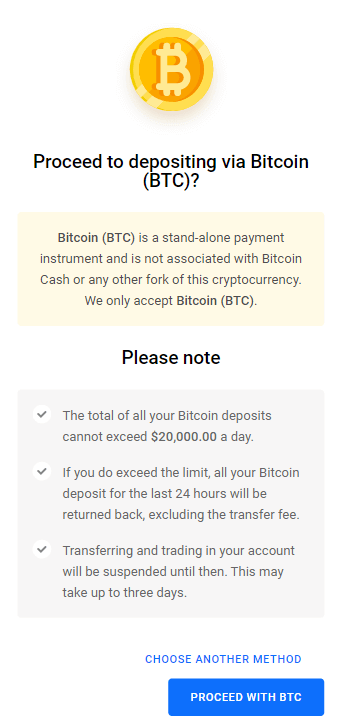 Step 3. Proceed with the payment to your Bitcoin Wallet.
For mobile:
scan the QR code that you will see below and follow the instructions.
For desktop and mobile:
copy the below Bitcoin address in your Bitcoin Wallet app and specify the transfer amount in it.
Good to know:

• You need to add funds to start trading on a real Forex account.

• We do not apply commissions on deposits and withdrawals—for any transfer method.

• We cover all fees applied by payment systems.

• The deposits are instant but may take up to three hours for certain methods.

• You can find all details on the payment method in your country on a special page.
Video of Deposit
FAQ of OctaFX Deposit



When will the deposited funds be credited to my balance?
Bank-wire transfers: All requests are processed within 1-3 hours during business hours of our Financial Department. Skrill/Neteller/FasaPay/Bank Card/Bitcoin deposits: instant.



What is the exchange rate for USD to EUR when depositing via credit card/Skrill to a EUR account/Internal transfer?
OctaFX does everything possible to ensure our clients have the best rates while depositing. We also don't charge any commission, and cover deposit and withdrawal fees applied by payment systems. When depositing via VISA or Mastercard, be aware the bank involved in the process will convert your funds according to its exchange rate, if your deposit is in a currency other than EUR or USD.
Note that the bank involved in the process may also charge additional fees for the transactions. If a client deposits via Skrill, they pay no extra fees if their Skrill account and trading account are in USD. If the client's Skrill account is in USD and their trading account is in EUR, the deposit in USD will be converted to EUR as per FX rate. If a client's Skrill account is in currency other than USD, Skrill will convert the money into USD using their own exchange rate and may charge additional fees. The process of depositing via Neteller is the same as for Skrill.

Are my funds safe? Do you offer segregated accounts?
In accordance with international regulation standards, OctaFX uses separate accounts to keep customers funds segregated from the companys balance sheets. This keeps your funds secure and untouched.



Do you charge any fees for deposits and withdrawals?
OctaFX does not charge its clients any fees. Moreover, deposit and withdrawal fees applied by third parties (e.g. Skrill, Neteller, etc) are also covered by OctaFX. However please be aware that some fees can may be applied in certain cases.



What is the maximum amount for withdrawals/ deposits?
OctaFX does not limit the amount you can withdraw or deposit into your account. The deposit amount is unlimited, and the withdrawal amount should not exceed free margin.



Which currencies can I use to fund my OctaFX account?
OctaFX currently accepts deposits in all currencies, to be converted into EUR and USD. Please note that account currency cannot be changed to currencies other than USD or EUR. If your account is in EUR you can always open a new account in USD, and vice versa. Please note that we don't charge any commission for deposits or withdrawals, as well as keeping our conversion rates among the best in the industry.

Where can I review my deposit/withdrawal history?
You can find all previous deposits in your Personal Area. Click Deposits history under "Deposit my account" section. Withdrawal history is available in your Personal Area under the "Withdraw" option on the right.